Events, Publications, and Media
Master Thu-Hien's work has been spread through the efforts of individuals, groups, and organizations that have invited her to share teachings, healings, and her gift of sacred song.  Her work has also been presented to various large audiences through events, publications, and media outlets. For inquiries regarding scheduling Master Thu-Hien for engagements, please contact us.
---
European Tours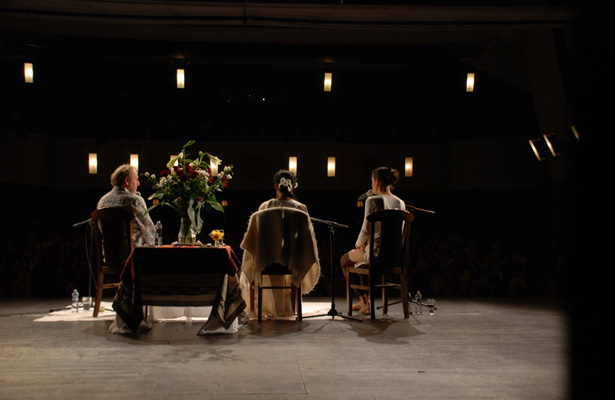 Touring with legendary Czech actor and humanitarian Jaroslav Dusek. Included in the photo is Master Thu-Hien and their translator.
---
Master Thu-Hien opening for Don Miguel Ruiz, acclaimed author of The Four Agreements and a spiritual elder of the Toltec people of Mexico. Mr. Ruiz holds his hand over his heart the whole time he listens to the soul song.
---
Television
Master Thu-Hien has been a regularly invited guest on several television programs in Cusco, Peru.
---
Film
---
Translated Interviews
1 hour interview on Master Thu-Hien's international sacred work. This is the latest interview.
10-minute panel answer that Master Thu-Hien gives about the importance of the ancestors (18:09 – 28:09)
1 hour interview about Master Thu-Hien's work.
25 minute interview with Master Thu-Hien after an event
---
Publications
---