ABOUT MASTER THU-HIEN
Master Thu-Hien's work centers on helping to positively elevate the world with divine wisdom,  grace, and energy.  As an international spiritual teacher, guide, healer, and singer she travels the world in service to the Universal Divine Mother consciousness as a healing gateway for these sacred energies.
Thu-Hien's calling is to help awaken and care for the souls of the masses. Her voice represents one of the newly emerging feminine spiritual luminaries of our modern-day world. She received her universal wisdom, ancient soul-songs, and healing abilities through almost a decade of silence in which she was divinely anointed for her sacred path. During this time she was shown remembrance of past lives as a great Mother to many nations across time caring for the spiritual needs of the different tribal cultures on the Earth. You can read more about Thu-Hien's unique life journey on this is website.
As Thu-Hien travels the globe still today many people recognize her ancient soul as a familiar divine helper to the masses. Through Thu-Hien's nurturing and powerful work countless people continue to receive miraculous healings and dramatically changed lives that are more in alignment with their sacred purposes.
We are living in an era which marks a quantum planetary cycle shift into The Golden Age. Our Now marks the time of the return of the Divine Feminine's heart, wisdom, beingness and maternal leadership to be co-used along with the Divine Masculine on this planet today.
The revival and integration of these higher and holier attributes will help lead humanity into new balance, liberation, happiness and peace. Those with the eyes to see, the ears to hear, and the primal nose to smell it are the first to consciously ride the waves of this epic planetary change. These soul propelled people are Master Thu-Hien's audiences and private clients. Master Thu-Hien is an expert in a rare field of sacred work that was once only done in the ancient temples. She carries out this extensive work through her:
Annual International Tours
Annual Sacred Women's Retreats
In-person Divinity Seminars
Private Soul Readings
Temple Healing, Purification and Advancement Sessions
Sacred Initiations
Earth Ceremonies
Soul Writings
Angel Meditation Concerts
Dolphin & Whale Meditation Concerts
On-Line Events
On-line Spiritual Development Programs
Humanitarian Service Work with Indigenous Cultures
---
EXTENDED BIOGRAPHY
Thu-Hien was born in Saigon, Vietnam during the Vietnam War to an Asian mother whose family were rice farmers. They lived in the customary ways of the Vietnamese people. She was born into this life living in a small bamboo hut, only speaking Vietnamese, living the traditional ways of the Buddhist people. Simultaneously Thu-Hien was surrounded by military soldiers and the continuous bomb firing of war.
Thu-Hien's father was a US soldier who never had the opportunity to know that he had fathered a Vietnamese daughter. Thu-Hien's mother told her that he looked like a mixture of African and Native American Indian decent. This is a very common mixture for many African-Americans.
Through the grace of international charity workers, before the fall of Saigon to the communist rule Thu-Hien along with several hundreds of other Amerasian (mixed American and Asian) children left a war-torn Vietnam as refugees. She was raised by an American family. Her formative years included living in Japan, Hawaii and many other places in the USA. In 1997, twenty-three years after leaving her birth home, Thu-Hien returned to her native land. She had a beautiful reunion and re-connection with her entire Vietnamese family.
Through this unique mix of powerful life circumstances and diverse cultural heritages Thu-Hien's life was destined to be a universal life path of service. Two decades ago she actively started the path of higher consciousness and has been a true devotee ever since.
In 2012, Thu-Hien was spiritually called onto the platform of planetary service work. Through this sacred labor of love she helps to prepare and teach the masses how to maneuver through the epic shift we are in, into a higher consciousness reality that we are all destined in experiencing now. Her simple, compelling and sometimes very humorous teachings are universal and reach a wide variety of people.
Additionally, Thu-Hien's work focuses on the spiritual healing needed in order to help lighten the density of planetary karma that the world has incurred through eons of unconscious living. As she shares her sacred work needed healing portals are created for those among the masses who want to walk through them to a paradise New Earth reality that is already here for all.
In 2015, Thu-Hien founded Missions of Light which is a non-profit organization that supports the healing and restoration of large populations that have sustained long-term suffering from the effects of past and current social injustices on humanity. Some of this deep and wide suffering includes the effects of war and the colonization of the indigenous people.
Additionally, Missions of Light conducts Earth cleansing, healing and transformational ceremonies across the globe to help heal and bring love back to the land.
Thu-Hien works in direct sacred partnership with the Divine Mother consciousness, Mother Nature consciousness, the wisdom and cosmic connection of the indigenous ancestors, and the Angelic realms to support positive, sacred and sustained life on this beautiful, majestic, living planet of ours.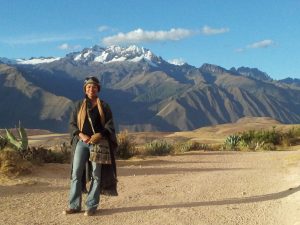 When Thu-Hien is not on her annual tour she serves from the ancient spiritual mecca of Peru where she now calls home. If you would like to learn more about the depth and vastness of Thu-Hien's sacred work you may want to CLICK HERE to read: The Sacred Music.
 "Whatever happens in life we are always free and eternal. Consciously centering oneself in the CREATOR'S LOVE AND TRUTH is a big doorway to this eternal freedom."
-Thu-Hien Poma of Adonai-
---